Comfort
by Kathleen Whitten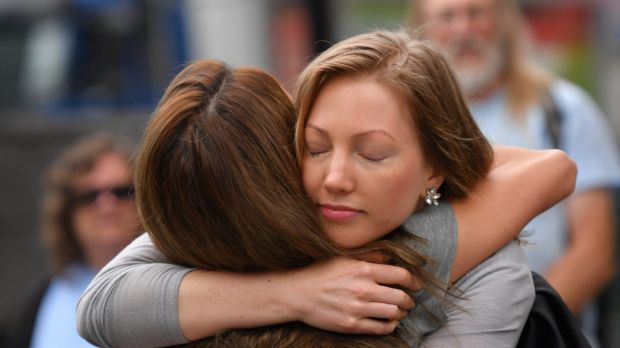 PLEASE USE THIS LIST TO KNOW WHAT NOT TO SAY TO PEOPLE STRUGGLING WITH CHRONIC PAIN.
Some of you know that I have had chronic physical spinal pain for 40 years from 11 spinal reconstructive surgeries, a fused spine (I can only bend my neck – which in areas is bone on bone now) and AML leukemia (from wiping out the bone marrow which was 99% cancerous).
I often share how THANKFUL I am for the many miracles that God has done – even after experiencing two NDEs, a long coma, botched surgeries and post ops with no narcotics.
But I have never shared some of things that people say to me that are NOT helpful.
PLEASE USE THIS LIST TO KNOW WHAT NOT TO SAY TO PEOPLE STRUGGLING WITH CHRONIC PAIN.
- "I had a migraine once and I prayed and it went away. I don't think you have enough faith."
- "Do you think maybe you could be allergic to tomatoes?"
-
- "I prayed and God told me that if you would use your gifts and talents for Him, He will heal you."
- "Do you think it's stress?"
- "You don't look like you are hurting."
- "You don't act like you are hurting."
- "You need to yell at an empty chair and pretend it is God."
- "If you got some meat on your bones…"
- "Of course you can still go to that event just: don't sit, don't stand, take a pillow, walk around…"
- "Do you get enough sleep?"
- "I think it's your shoes…"
- "You need to be more pro-active."
- "Don't schedule things when you are in pain…" (I'm always in pain…) "Don't schedule things when pain is flaring." (How can I predict this?)
- "Oh I understand. My back hurt so much I couldn't sleep once."
- "Well, it could be worse…"
- "Was one of your relatives a Mason?" (you can't make this stuff up)
- "Suck it up buttercup." (coaches mean well)
-"You shouldn't be in pain. Your fusions are now solid." (a doctor friend who knows ZERO about what surgeries that I've had)
- "Try changing your mind-set."
- "Tell the devil to leave you alone every single day."
- "Are you better now?"
- "Have you been to ____ Clinic?"
- "Maybe if God healed you, you wouldn't need Him anymore."
- "Do you think your husband is tired of dealing with this?" (I already carry intense guilt over that which I cannot change)
- "How do you think this affects your children."
- "You poor, poor thing."
- "You should travel to see ____ Healing Ministry. They have the answer." (after telling them that I've been to many others)
- "Think about something else." (something I do 24/7 already)
- "Maybe you're just depressed and that has caused your pain."
- "You must have hidden sin in your life."
- "That's exactly why I have never opted for surgery." (surgery was not an option for me)
- "At least you don't have ____."
- "You must feel better because you joined us today!"
- "It's only going to get worse as you get older."
- "HAVE YOUR TRIED… thinking positively, joining a chronic pain group, getting on meds, getting off meds, chiropractor, physical therapy, acupuncture, bio-feedback, counseling, cryotherapy, books on tape, stretching, whirl pools, cold/heat packs, yoga, TENS, ultra sound, eating less/more, Electrical Stimulation, H wave, Laser therapy, eliminating gluten, Iontopherosis, dry needling, a different pain doctor, energy therapy, massage, essential oils, Weed, hemp oil, LEDS, rehabilitation, living with monks for a while, exercise, no exercise, excessive alcohol, traction, Kinesiology taping, vacations, steroids, music therapy, incense, better pillows, changing your mattress, morphine implants, neuro-stimulation, Ketamine, surgical implants, animal therapy, drinking more water, Tylenol (one of my favorites), and the list goes on…
WHAT IS WRONG WITH: "HAVE YOU TRIED?" It is usually unsolicited advice. Ask if you might suggest something. If the person says, "sure," then suggest a FEW things that you honestly believe he/she has not tried – NOT everything you have ever heard of. REMEMBER if someone has been in pain for a long time and tells you that they have tried everything – suggesting things like Tylenol is an insult. Telling them about the time you broke your wrist in the 7th grade is also an insult.
What helps someone in chronic pain?
Hugs help. Not giving up on us helps. Extending the invitations to do things anyway helps. Saying that you hate it that we have to deal with such pain helps. Compassionate hearts help – and it is our job to see past silly comments and questions and suggestions in order to see that- most people really do care. – kathleen whitten 5-14-2019
"Blessed be the God and Father of our Lord Jesus Christ, the Father of mercies and God of all comfort, who comforts us in all our affliction so that we will be able to comfort those who are in any affliction with the comfort with which we ourselves are comforted by God." 2 Corinthians 1:3-4
"He will wipe every tear from their eyes. There will be no more death or mourning or crying or pain, for the old order of things has passed away." Revelations 21:4
Visit Kathleen's blog for a dose of inspiration!
Do you enjoy reading these email meditations? Please search your heart for others in your life who your think may enjoy receiving them too. We encourage you to forward this page to anyone who you feel needs to hear the Good News of Jesus Christ.
If you would like to receive these weekly meditations by email, please take this link.
We thank you for your support of kwm! We are a non-profit organization that relies on your donations, referrals and prayers! Thank you for your support and for sharing this Good News with others in your life. Perhaps God has already used kathleen's powerful messages to help you or those you love, then GIVE TO GIVE by joining us in helping to bring her messages to others! Your support of kwm enables us to offer all of kathleen's messages (audio and written) for FREE, reaching those who are financially challenged who would not recieve God's word any other way.

Becoming a financial partner with kathleen whitten ministries means that, together, we can offer all the ministry has to bring God's healing and hope to a hurting world.
Jesus said, "Freely you have recieved, freely give." Matthew 10:8b LivingJesus.us