Clean Clothes
by Kathleen Whitten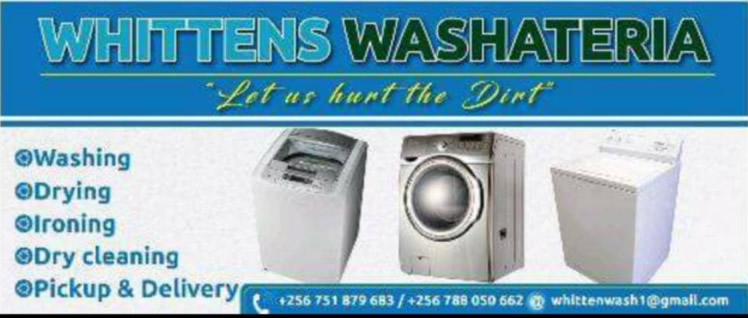 We all want clean clothes. But not everyone has a washer and drier or the time to wash. One of our adopted sons in Kampala, Uganda started this wonderful Washateria near the University. Stop in if you are near!
Yes, we all want clean clothes. But how much more do we desire clean souls? 
When our clothes are dirty we do not smell fresh. But when our souls are dirty we feel depressed, dark, heavy and lost and we may not even know why.
What gets our souls dirty? Sin. Those things that always get us into trouble: selfishness, lying, stealing, coveting –anything that is against God or a fellow human being. 
You might know that story: In the beginning in the garden of Eden, Adam and Eve chose to disobey God so sin now exist in all humans. Adam and Eve's own son, Cain, killed his brother, Abel. The first humans! We had no hope… (Genesis 4)
But God didn't want to leave us that way. So God sent his only Son, Jesus, to die for our sins so that we can be washed clean.  (John 3:16)
If we have asked Jesus Christ to be Our Lord, believing Him to be God's Son, then we can to be cleansed from dirty sin. Calling upon God for forgiveness in Jesus' Name cleanses us from sin. (Luke 11:4, 1John 1:9)
Being baptized, going underwater, is a symbol to God, man and the evil one that we are separated from the world/sin and belong to God. Baptism represents that we are clean in God's eyes. (Matthew 28:19)
But how do we STAY clean and pure? How do we live without the stain and shame of sin?
God's Washateria begins with our asking forgiveness through Jesus. But there are many other things to know to keep our souls clean. 
1. Ask for forgiveness in Jesus' Name often. Our awareness of sin will increase our desire to be clean of it.
2. Meet regularly with God. Read His Word. Pray. Memorize one verse at a time. I cannot emphasize this enough. In memorizing God's Word – The Bread of Life – it begins to change us from the inside out. It will also give us God's power to go through anything in life! (Psalm 119:11 & 105)
3. Meet regularly with God's people. Find a church that teaches from the Bible, baptizes, rejoices in song and prays. Go there as often as you can. Why? Because we live in a world that is against God. The world gets us dirty. We need a refuge from the world at least once a week at a minimum. (Hebrews 10:25)
4. Surround yourself with Godly people. People who encourage you to do good and not evil. People who love God and others. People who truly care about you and your soul. (Matthew 15:13)
5. Dedicate all that you do to God. You are His child. He wants to help you in all areas of your life all the time. But most of us have a small picture of Him. What is an example of this? Do as Abraham did. Count on Him to provide. God wants us to call Him, "Jehovah Jireh," The Lord Who Provides. He wants to provide for all of our needs. Trust Him to do the impossible. God is not just looking for people who love Him. God is looking for children who love, need and trust Him. (Genesis 22:13)
I was bent down, brokenhearted and under a curse
I went to the world for answers but the world made it worse
My soul was dirty, depressed, lost and alone
Until I met Jesus and found my real home
His love is like sunshine and a cool breeze all day
"Forgive me," I ask, and He shows me the way
His people encourage me and give me more love
I no longer live in the darkness under
But in His light from above
- kw 5/21/17
Do you enjoy reading these email meditations? Please search your heart for others in your life who your think may enjoy receiving them too. We encourage you to forward this page to anyone who you feel needs to hear the Good News of Jesus Christ.
If you would like to receive these weekly meditations by email, please take this link.
We thank you for your support of kwm! We are a non-profit organization that relies on your donations, referrals and prayers! Thank you for your support and for sharing this Good News with others in your life. Perhaps God has already used kathleen's powerful messages to help you or those you love, then GIVE TO GIVE by joining us in helping to bring her messages to others! Your support of kwm enables us to offer all of kathleen's messages (audio and written) for FREE, reaching those who are financially challenged who would not recieve God's word any other way.

Becoming a financial partner with kathleen whitten ministries means that, together, we can offer all the ministry has to bring God's healing and hope to a hurting world.
Jesus said, "Freely you have recieved, freely give." Matthew 10:8b LivingJesus.us