Salt Of The Earth
by Kathleen Whitten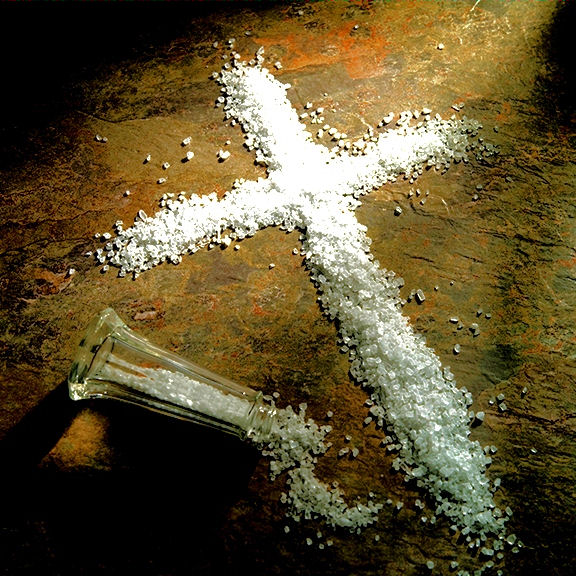 We are living in a time when many people seem to "get away" with evil. As a matter of fact, some make a thriving business of it. Millions have zero reverence for any form of morals or godliness, much less the Holy Word of God.
Yet even more tragic, while many in the world trash God's Word and knowingly or unknowingly embrace evil, few of God's people know enough of His Word to help!
Will we, as Christians, be held accountable for that? Yes. Without a doubt. YES.
Jesus tells His followers that we are to be the "salt of the earth"— preserving and providing the world with Truth even if God's Word and Truth sting the "open flesh" of man.
Additionally, Matthew 5:13 describes that "...if the salt (us) loses its saltiness (ability to preserve and provide God's Truth)...then it is no longer good for anything, except to be thrown out and trampled by men."
Translation: When we as Christians fail to know and share the awesomeness and absoluteness of God's Word and Truth, then we are not only useless to God, but doormats to His enemies.
2Peter 3:5-7 tells that there will come a time when God's people will "deliberately forget" His Word. Are we living in this time?
Have we forgotten that regardless of the changing mores of society, Jesus and His teachings never change (Hebrews 13:8) and God's Word will never pass away? (Matthew 24:35, Mark 13:31, Luke 21:33)
Have we forgotten Matthew 5:18-19, which says "...not the smallest letter, not the least stroke of a pen, will by any means disappear from the God's Word until everything is accomplished. Anyone who breaks one of the least of these commandments and teaches others to do the same will be called least in the kingdom of heaven, but whoever practices and teaches these commands will be called great in the kingdom of heaven."
Anyone knowingly or unknowingly changing God's word
to fit a lifestyle or an agenda or the majority opinion
is in serious peril.
God makes His position clear: "I warn everyone who hears the words of the prophecy of this book: If anyone adds anything to them, God will add to him the plagues described in this book. And if anyone takes words away from this book of prophecy, God will take away from him his share in the tree of life and in the holy city, which are described in this book." (Revelation 22:18,19)
Prayer: Dear God, for the sake of Your Son Jesus, forgive us for our complacency towards Your Word. Forgive us for not choosing Your Truths. Please pour Your mercy and grace upon us. Teach us. Give us ears to hear. Please give us a hungry heart to store Your Word and a willing soul to obey it. In the name of Jesus, please help us to choose to be the salt of the earth. May we lead others to Your freeing truths, Your loving arms, and Your everlasting joy! Amen.
Visit Kathleen's blog for a dose of inspiration!
Do you enjoy reading these email meditations? Please search your heart for others in your life who your think may enjoy receiving them too. We encourage you to forward this page to anyone who you feel needs to hear the Good News of Jesus Christ.
If you would like to receive these weekly meditations by email, please take this link.
We thank you for your support of kwm! We are a non-profit organization that relies on your donations, referrals and prayers! Thank you for your support and for sharing this Good News with others in your life. Perhaps God has already used kathleen's powerful messages to help you or those you love, then GIVE TO GIVE by joining us in helping to bring her messages to others! Your support of kwm enables us to offer all of kathleen's messages (audio and written) for FREE, reaching those who are financially challenged who would not recieve God's word any other way.

Becoming a financial partner with kathleen whitten ministries means that, together, we can offer all the ministry has to bring God's healing and hope to a hurting world.
Jesus said, "Freely you have recieved, freely give." Matthew 10:8b LivingJesus.us