Rejoice!
by Kathleen Whitten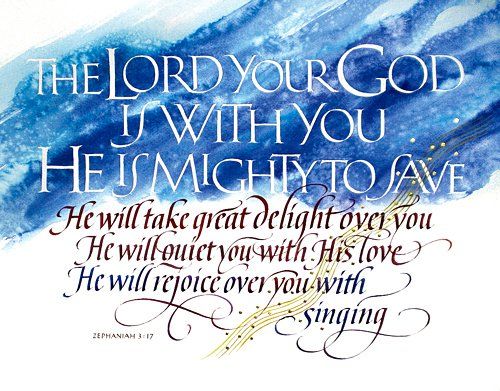 We sing to the Lord. And through our songs we rejoice in His goodness and bring glory to His name!
But did you know that
the Lord rejoices over us with singing?
Zephaniah 3:17 says: "The LORD your God is with you, He is mighty to save. He will take great delight in you, He will quiet you with His love, He will rejoice over you with singing."
What have we done to deserve such praise? Who are we to cause the Creator of the Universe to rejoice?
His children.
We are His children.
As we rock our newborn babies to sleep, we sing (and sometimes secretly cry). The baby has done nothing to earn our praise, and yet our voices and hearts are lifted up to the heavens in thanksgiving and joy simply because we love our children.
God loves us, His children, even more. We have done nothing to deserve His love, but He loves us just the same.
As you lift your voice to Him today, envision Him singing back to you. Imagine singing harmony with The Lord!
It makes me wonder: What does God's voice sound like? Is it powerful like rolling thunder? Is it peaceful like the song of the meadow bird? Is it joyful like the laughter of a child? Or is it strong and consistent like rushing waters?
Maybe His voice is all of these things, but mostly—I believe it is the voice of a Father singing with all of His heart of His love for His children.
Visit Kathleen's blog for a dose of inspiration!
Do you enjoy reading these email meditations? Please search your heart for others in your life who your think may enjoy receiving them too. We encourage you to forward this page to anyone who you feel needs to hear the Good News of Jesus Christ.
If you would like to receive these weekly meditations by email, please take this link.
We thank you for your support of kwm! We are a non-profit organization that relies on your donations, referrals and prayers! Thank you for your support and for sharing this Good News with others in your life. Perhaps God has already used kathleen's powerful messages to help you or those you love, then GIVE TO GIVE by joining us in helping to bring her messages to others! Your support of kwm enables us to offer all of kathleen's messages (audio and written) for FREE, reaching those who are financially challenged who would not recieve God's word any other way.

Becoming a financial partner with kathleen whitten ministries means that, together, we can offer all the ministry has to bring God's healing and hope to a hurting world.
Jesus said, "Freely you have recieved, freely give." Matthew 10:8b LivingJesus.us