God's Original Intent
by Kathleen Whitten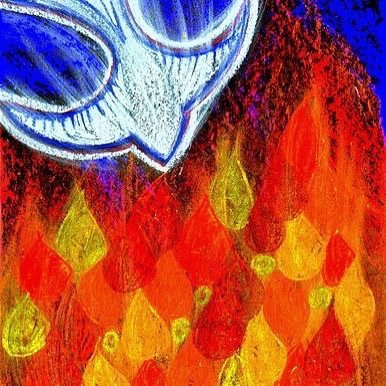 God's original intent for man is demonstrated in the garden of Eden. Created in God's own image, man not only walked and talked with God but was filled with His Spirit.
Genesis 2:7 "...the LORD God formed the man from the dust of the ground and breathed into his nostrils the breath of life, and the man became a living being."
The word "breath" in the Hebrew language refers to the spirit. The word "life" in Hebrew means quicken, preserve, live forever. So in the very beginning, God filled man with the breath of life – The Holy Spirit.
Immediately after man chose to allow sin (evil, sickness, destruction, separation from God) to enter the world, God began a plan to bring man back to a place of intimacy with Himself. God's plan through His Son Jesus would give mankind an opportunity to once again be filled with the Spirit of God.
Thousands of years after Adam, yet before His death on the cross, Jesus reveals, "If anyone is thirsty, let him come to Me and drink. Whoever believes in Me, as the Scripture has said, streams of living water will flow from within him." John 7:39 explains, "By this He meant THE SPIRIT, whom those who believed in Him were later to receive." (John 7:37,38,39)
After Christ's crucifixion and His final ascension into heaven, His followers were gathered in one place. There, united in prayer, the Spirit rested upon each individual and each began to speak in other tongues. (Acts 2:1-11)
The words of the prophet Joel were fulfilled in this moment: " 'In the last days, God says, I will pour out My Spirit on all people. Your sons and daughters will prophesy, your young men will see visions, your old men will dream dreams. Even on my servants, both men and women, I will pour out My Spirit in those days, and they will prophesy.'" (Acts 2:17,18)
In church young people can learn to receive communion (the shared partaking of the body and blood of Jesus) and celebrate the confirmation of their faith and membership in a church body. But the most important thing in their lives - in all of our lives - is in receiving Jesus Christ as our Savior and asking for God's Spirit to fill us, change us, and guide us so that we may walk and talk with God on this earth and then go to live with Him forever in heaven.
Peter replies in Acts 2:38,39: "Repent and be baptized, every one of you, in the name of Jesus Christ for the forgiveness of your sins. And you will receive the gift of the Holy Spirit. The promise is for you and your children and for all who are far off —for all whom the Lord our God will call."
Do you enjoy reading these email meditations? Please search your heart for others in your life who your think may enjoy receiving them too. We encourage you to forward this page to anyone who you feel needs to hear the Good News of Jesus Christ.
If you would like to receive these weekly meditations by email, please take this link.
We thank you for your support of kwm! We are a non-profit organization that relies on your donations, referrals and prayers! Thank you for your support and for sharing this Good News with others in your life. Perhaps God has already used kathleen's powerful messages to help you or those you love, then GIVE TO GIVE by joining us in helping to bring her messages to others! Your support of kwm enables us to offer all of kathleen's messages (audio and written) for FREE, reaching those who are financially challenged who would not recieve God's word any other way.

Becoming a financial partner with kathleen whitten ministries means that, together, we can offer all the ministry has to bring God's healing and hope to a hurting world.
Jesus said, "Freely you have recieved, freely give." Matthew 10:8b LivingJesus.us