Multiply
by Kathleen Whitten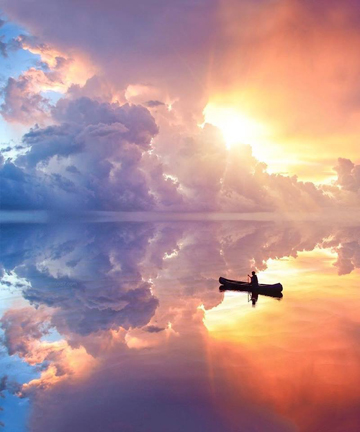 "When Jesus landed and saw a large crowd, He had compassion on them, because they were like sheep without a shepherd. So He began teaching them many things. By this time it was late in the day, so (Jesus') disciples came to Him. 'This is a remote place,' they said, 'and it's already very late. Send the people away so they can go to the surrounding countryside and villages and buy themselves something to eat.'" (Mark 6:34-36)
I like the disciples. They were practical, honest, and little rough around the edges. When they found themselves in a remote place in the midst of a massive crowd with their stomach's growling they essentially told Jesus He had better send the crowd away to get some food.
Jesus' response shocked them—as God's answers continually shock the practical side of all of us. Jesus responded to His disciples, "You give them something to eat." (Mark 6:37)
"Us? What do you mean us? We don't have the resources! We don't have the ability! God, could You clarify what You mean?
Okay, that's what we usually say to God when He asks us to do something out of our comfort zone. What the disciples said was, "That would take eight months of a man's wages! Are we to go and spend that much on bread and give it to them to eat?"
Have you noticed God often responds to our questions with another question? Jesus asks His disciples the same question that He asks His disciples (us) today: "What do you have to give?"
And then we have our famous story: The disciples scrounge up five loaves and two fish (barely enough to feed three or four people), give them to Jesus, and watch Him miraculously multiply it to feed thousands. The meager offering not only satisfies the hungry crowd, but there is enough left over to fill twelve large baskets!
What do we learn from this?
God may lead us to do things we are not able to do,
but if we freely give him the little we have
(time, resources, finances, abilities, etc.)
then He will multiply it all to meet the needs of the people,
accomplish His purposes,
and give us a future storehouse of abundance!
Do you enjoy reading these email meditations? Please search your heart for others in your life who your think may enjoy receiving them too. We encourage you to forward this page to anyone who you feel needs to hear the Good News of Jesus Christ.
If you would like to receive these weekly meditations by email, please take this link.
We thank you for your support of kwm! We are a non-profit organization that relies on your donations, referrals and prayers! Thank you for your support and for sharing this Good News with others in your life. Perhaps God has already used kathleen's powerful messages to help you or those you love, then GIVE TO GIVE by joining us in helping to bring her messages to others! Your support of kwm enables us to offer all of kathleen's messages (audio and written) for FREE, reaching those who are financially challenged who would not recieve God's word any other way.

Becoming a financial partner with kathleen whitten ministries means that, together, we can offer all the ministry has to bring God's healing and hope to a hurting world.
Jesus said, "Freely you have recieved, freely give." Matthew 10:8b LivingJesus.us