Ancient Of Days
by Kathleen Whitten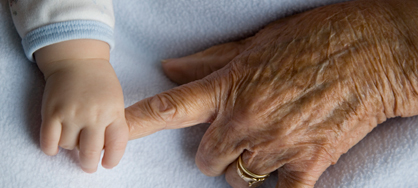 At some point in life we are awakened to how quickly time goes by. Life's changing seasons can seem to be careening out of control at a rapid pace. Grasping to express this, we say things like, "It feels like yesterday when I was a child…I was in school…I was married…my children were young, etc."
In addition, many of us swing from feeling like we should be younger than our real chronological age to feeling "ancient" and very out-of-step with the upcoming generations. It is both humorous and sobering when our childhood toys become collector's items, and the appliances of our generation are sold in antique stores.
Of course, our consolation is that "vintage is always in." But there remains a lingering ache for someone to see the child behind the wrinkles or share the memories and joy that certain songs, scents, and sights bring to our hearts.
One of the men I most respect, my father-in-law, expressed the difficulty in releasing one friend after another to heaven. Even more heart-wrenching is the death of a spouse… or a parent… or a child…
Who will understand us? Who will know our favorite ice cream, our school fight song, or our silly inside jokes? Who will "remember the time when…?" Who will care as much about our children, our grandchildren, our feelings, our special possessions, our welfare, or even our opinion? Who?
God. Jesus Christ. The Holy Spirit. The Ancient of Days.
In Old Testament scripture God is called "The Ancient of Days." Daniel describes God three times as "The Ancient of Days" because God has and always will "be there."
Who was there for your first birthday, your first pony ride, your first love, and your first heartache? Who was there for every lullaby, every goodbye, every joy, and every pain? Who was there through the simple years, the unspoken fears, your greatest successes, and your most embarrassing moments?
God. Jesus Christ. The Holy Spirit. The Ancient of Days.
Take joy for God promises us:
I am the Ancient of Days. (Daniel 7:9)
I am the author and the finisher of your life. (Hebrews 12:2)
I will never leave you or forsake you. (Deuteronomy 31:8; Hebrews 13:5)
I am Your Father. (Matthew 6:26)
I am your friend. (James 2:23)
I am your Savior from beginning to end. (Revelations 1:8; 21:6; 22:13)
Do you enjoy reading these email meditations? Please search your heart for others in your life who your think may enjoy receiving them too. We encourage you to forward this page to anyone who you feel needs to hear the Good News of Jesus Christ.
If you would like to receive these weekly meditations by email, please take this link.
We thank you for your support of kwm! We are a non-profit organization that relies on your donations, referrals and prayers! Thank you for your support and for sharing this Good News with others in your life. Perhaps God has already used kathleen's powerful messages to help you or those you love, then GIVE TO GIVE by joining us in helping to bring her messages to others! Your support of kwm enables us to offer all of kathleen's messages (audio and written) for FREE, reaching those who are financially challenged who would not recieve God's word any other way.

Becoming a financial partner with kathleen whitten ministries means that, together, we can offer all the ministry has to bring God's healing and hope to a hurting world.
Jesus said, "Freely you have recieved, freely give." Matthew 10:8b LivingJesus.us