Special Events
Kathleen at First Presbyterian Church
Kathleen's Wednesday Night class at First Presbyterian Church has concluded. We hope you enjoyed this special series of classes!
To listen to the series "The Living Word" from the classes at FPC, take this link.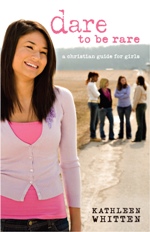 Dare To Be Rare© A Christian Guide for Girls
Order your copy of the book now!
Though addressed to young women, this book appeals to women of all ages. Taking Romans 12:2 as its foundation. "Do not be conformed to this world, but be transformed by the renewing of your mind, you may prove the will of God, that which is good, acceptable, and perfect" - the book dares readers to explore critical issues such as self-esteem, courage, honesty, and identity through the lens of scripture and experience, offering the positive message that they are valued and loved by God.
Dare To Be Rare© A Christian Guide for Girls
by Kathleen Whitten
Cokesbury Publishing
October 1, 2007
144 Pages

Ordering Dare To Be Rare©
Ask for Dare To Be Rare© at your favorite bookstore. (It helps others to know about it!)
Order it online at Amazon.com, BarnesandNoble.com, ChristianBook.com or other book sites. Or order directly from the publisher at Cokesbury.com or call 1-800-672-1789. The Kindle EBook edition is available from Amazon.com and Cokesbury.com also has the Kindle and E Google EBooks available.
What others are saying about Dare To Be Rare©
"In Dare To Be Rare Kathleen Whitten shares with us both our purpose for living and the way to live with purpose. She breaks open the Word and exposes all of our fears and excuses until finally we are ready to eagerly embrace the amazing inheritance that is ours." —Terry Meeuwsen, co-host, The 700 Club
"Dare To Be Rare is a life changing book, journal, small group tool, parent/youth leader resource as well as a conference. However, most importantly Dare To Be Rare is a movement. Through her books, ministry and conferences, Kathleen Whitten, is leading a whole generation of women and girls to turn their eyes to God's Word, their hearts to His love and their lives to His plan." —Mike Bickle, International House of Prayer of Kansas City
"Dare To Be Rare arms young girls with information they can use in helping them grow to adulthood with their strength and purpose intact. The loss of self worth and value in our young women today is alarming. We need to get this book into the hands of our daughters, granddaughters, nieces, and friends so they can understand that God made them special and unique and learn to love the person God made them to be." —Rich Marshall, author of God @ Work Volume I and Volume II
"Our creator is the master affirmer. He gives purpose and direction to our lives. Kathleen Whitten's Dare To Be Rare encourages women to live a life of purity and purpose. An excellent book." —Linda Strom, speaker and author of Karla Faye Tucker Set Free: Life and Faith on Death Row
"As a pediatrician who has been practicing for 39 years, I see this as a valuable resource for girls of all ages, especially preteen and teenagers. It gives them scriptural references and applications to help them make wise decisions during these important years." —J. Thomas Fitch, M.D., Pediatrician, San Antonio, Texas, past President of the Texas Pediatric Society, Focus on the Family Physicians Resource Council, Chairman of the Board of the Medical Institute for Sexual Health
"Today's teenagers need truth and relevant, personal application. Kathleen Whitten weaves many personal examples with God's truths to hit the bull's eye of a young person's heart. Every young person that you work with would benefit by these quick-hitting, personal topics of Dare To Be Rare!" —LeRoy Jacobson, San Antonio Youth for Christ/Campus Life, presently in youth ministry for 36 years
"Dare To Be Rare is a guide through the maze of young adulthood. Always challenging; always hopeful; filled with stories that will make you smile and marvel at God's immense love. Kathleen's love for Jesus is on in every page." -Chuck Collins, Rector, Christ Church, San Antonio, Texas
"This is a wonderful book, with something special to offer readers of every age. No matter what challenges in life you are facing, it will reward you with new insights with each reading. I loved it!" —Dr. Denise Woody-Gross, gynecologist specializing in female needs, San Antonio, Texas
"Kathleen has been an amazing spiritual mentor to me since high school. Her encouragement and guidance to me has always been based on God's word, which she continues to do throughout this book. Kathleen's realness about her trials and triumphs have greatly blessed my life. Michael and I are so excited for all of the lives she will bless through her teachings in Dare To Be Rare!" —Ginna & Michael Crocker, Reverend, Alamo Heights United Methodist Church
"Dare To Be Rare will help a young person discover her belovedness, so that she can live her life in the freedom of who she is in God's grand design. I wish I had had access to her words of wisdom and encouragement when I was a young girl." —Bitsy Ayres Rubsamen, spiritual director, retreat speaker, prayer minister, and author of Gentle Rain and Becoming the Beloved
"Dare To Be Rare reveals Jesus in such a way, that you know He is in the seat next to you, holding you tight as you travel the ups and downs of life's roller coaster. Kathleen will love you, challenge you, and lead you to discover the joy of living with Christ by your side." —Cheryl Marting, Chief Connections Officer, Auxano, Houston, Texas
Dare To Be Rare© Girls Conference 2007 was an AMAZING SUCCESS!
14 first time salvations and 190 girl's lives changed forever!
We want to thank our dedicated Mom volunteers, encouraging churches and schools, all kwm partners,
Chapter 3 Band, our 16 Dare To Be Rare Junior, Senior Leaders, as well as Alamo Heights United Methodist Church for the use of their facilities.
For more information on this event or to schedule a Dare To Be Rare© Conference,
please call kwm at 210.822.5500.
Weekly Events
Prayer Needs
Tuesdays
kwm Prayer Team gathers to pray for individual needs, 4:15 p.m. on Tuesdays
kwm Prayer Team prays daily for all requests
Call kwm office to schedule appointment for prayer: 210.822.5500
Or email requests to: gaygrogers@gmail.com

Possible Events
Special Events/Conferences
These are a few of the conferences Kathleen has available:
"Dare To Be Rare©" – Teens
"Moccasins and Mercy" – All Ages
"I've Got A Problem… ME…" – Adults/Teens

Recorded Bible Teachings
CDs of kathleen's messages are available through the kwm store,
On this website, you may listen to kathleen's talks in the searchable database
You can listen to kathleen on ITunes (search for Kathleen Whitten Ministries)

For more information, please call us
kwm News and Events call 210.822.5500